Moroccan Chilli Squid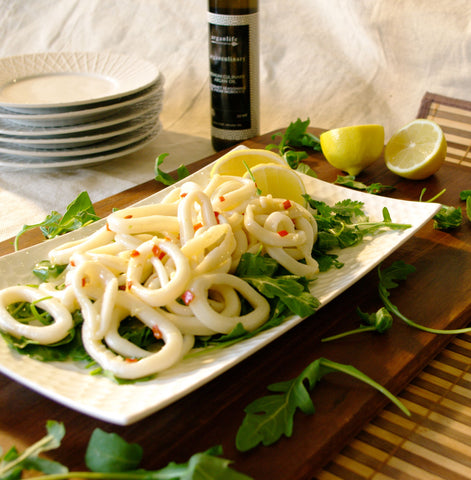 Ingredients:
500g squid hoods cut into 1 cm rings
1 long red chilli - finely diced with seeds removed
2 cloves garlic - crushed
2 tbs olive oil
1 tbs Argan Life Culinary Argan Oil
1 bunch coriander roughly chopped
200g rocket
1 lemon - cut into wedges
Salt and pepper to taste
Method:
Heat oil in a large pan over a high heat. Reduce pan to medium-high heat, add chilli and garlic and stir until fragrant. Add squid and cook turning occasionally, for 2-3 minutes or until golden and just cooked. Transfer to a heatproof bowl. Note: if your pan is not large enough you may need to cook the squid in batches to avoid it stewing and becoming though and rubbery. If you are doing this, ensure you divide your oil, chilli and garlic accordingly, wipe and reheat the pan between batches.
Meanwhile, combine the rocket and coriander in a mixing bowl, toss with half the Argan Life Argan Oil and transfer to a serving plate.
Once all squid is cooked, add the remaining Argan Life Argan Oil, toss well to coat and pile atop rocket and coriander leaves. Serve with lemon wedges.