Amlou-Moroccan Almond, Honey & Argan Dip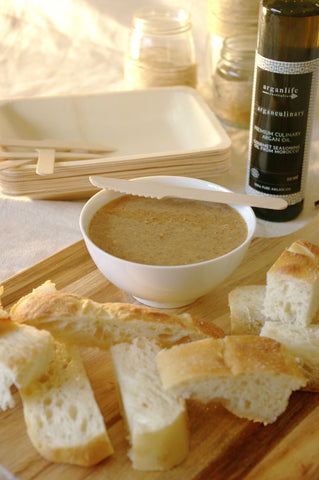 Ingredients:
200g whole raw almonds
75-100ml Argan Life Culinary Argan Oil
3 tbs honey
Method:
Roast the almonds on a baking tray lined with baking paper at 150 c for 15 mins. Check your almonds halfway through the cooking time to ensure that they are not burning and turn them over. If they are roasting quickly, reduce heat on the oven and reduce cooking time if required.

Remove the almonds from the oven and allow to cool. Grind them in a food processor until they are reduced to a fine almond powder.

Blend the almond powder with the argan oil by gradually adding the argan oil. To achieve a runny consistency add more argan oil, but note that it has a strong flavour. Extra-virgin olive oil may be used in place of Argan Oil at this stage. For a sticky paste-like consistency, use less argan oil.

Finally, add 3 tablespoons of honey and blend well.

Delicious with fresh bread, toast or poured over freshly made pancakes.