The Many Benefits of Rhassoul Moroccan Lava Clay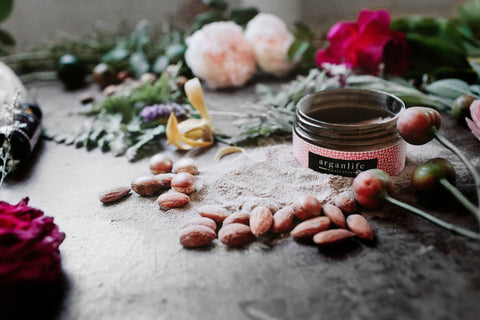 What is Rhassoul Moroccan Lava Clay?
The name Rhassoul Clay (aka Ghassoul Clay) comes from the Arabic word Rassala, meaning "to wash". Rhassoul has been used by Moroccan women since ancient times to deeply cleanse and purify the skin, hair and scalp. Rhassoul is a Stevensite clay that has been formed from volcanic lava and is mined from chambers below the Atlas Mountains in Morocco. After extraction, the pure clay is washed and dried in the sun, and then ground to a fine powder. It is regarded as the finest of clays because of its very high mineral content and capacity to draw out impurities. Rhassoul is the clay of choice in high end spas and salons across the globe and is often included in Hammam treatments.
The Benefits of Rhassoul Moroccan Lava Clay
Nourishes the Skin
Rhassoul is rich in minerals that are beneficial for the skin, primarily Silica (approx. 57%) and Magnesium (approx. 25%). Silica is an essential element in collagen production and frequently used in skin formulations. Magnesium is an essential mineral for the body and is readily absorbed by the skin. Magnesium protects against free radical damage that leads to wrinkles and protects against inflammation caused by allergies and acne. Magnesium is the mineral responsible for the well-known therapeutic benefits of Epson Salts.
Treats Acne / Detoxifying
Rhassoul works by ionic exchange. The negatively charged clay particles draw out positively charged impurities in the skin, unclogging pores and promoting circulation, and at the same time depositing it's beneficial minerals. Rhassoul is also highly absorbent and is a very effective treatment for excessively oily skin.
Exfoliates / Tightens / Smoothes
The tiny clay particles gently exfoliate the skin, removing dead skin cells and tightening the pores. Regular use of Rhassoul will lead to a smooth and evenly-toned complexion.
Suitable for Sensitive skin
Rhassoul has been tried and tested over 1000 years, and is very well tolerated by all skin types. The minerals in Rhassoul will assist in reducing inflammation without irritating or drying the skin.
Natural shampoo
Rhassoul is also traditionally used as a shampoo as it has excellent properties for removing dirt and grease, and will gently clean the scalp without irritation. It is the ideal "no-poo" solution and is hugely popular among the Natural Hair community.
Environmentally Friendly Soap / Shampoo / Exfoliant
Rhassoul is extracted from deposits inside the Atlas Mountains, and unlike many other clays, has not been exposed to surface contaminants. An all-natural alternative to products that have surfactants, parabens, palm oil and plastic beads, it is safe for discharge into our marine environments.
How to Use Rhassoul Moroccan Lava Clay
Rhassoul can be used as a face mask, as a cleanser for the whole body and as a shampoo.
Face Mask: Mix Rhassoul in a 1:2 dilution with water and blend to a smooth paste. Apply to the face and leave for 5-10 minutes, then rinse with warm water. This can be applied once per week for dry skin and up to 3 times a week for the treatment of oily skin and acne.
Cleanser: Mix Rhassoul in a 1:4 dilution to achieve a runny, lotion like consistency. Smooth over the whole body and face, leave for a few minutes, then rinse clean.
Shampoo: Apply a Rhassoul paste to the roots of wet hair, massaging in with the addition of water. Do not allow the Rhassoul to dry in the hair. Simply rinse the hair, allowing the Rhassoul to wash through to the ends of the hair as you rinse. Follow-up by massaging a small amount of Argan Oil into the hair before drying.
SHOP NOW FOR RHASSOUL CLAY: moroccan-rhassoul-clay
Sources:
182614-magnesium-for-skin-care
what-minerals-are-in-epsom-salt